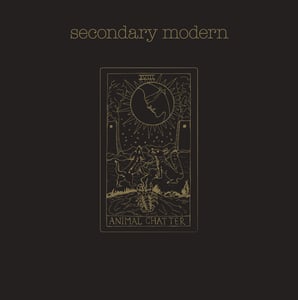 $

15.00 - On Sale
SECONDARY MODERN - ANIMAL CHATTER [PR-014;LP/DIG.DOWNLOAD]
Recorded over five days in the windy city, this is the band's most ambitious, hi-fi, pop-expressionist statement to date — a welcome addition to the PR catalog and a treat for your turntable!
secondary modern:
david brown : vocals, guitar, keys, bass, drums, percussion, vibraphone
matt mcguire: vocals [lead on "novel times"], bass, guitar, percussion, vibraphone, keys
daniel brown: vocals [lead on "off to sleep"], drums, percussion, guitar, keys
recorded and mixed by david allen, December 2014
at the observatory, Chicago, IL.
mastered by timothy stollenwerk
at stereophonic mastering, Portland, OR.
cover art by kelly ahrens. layout by kurt gregory.
[LISTEN]
https://secondarymodern.bandcamp.com/album/animal-chatter